Seat Assignment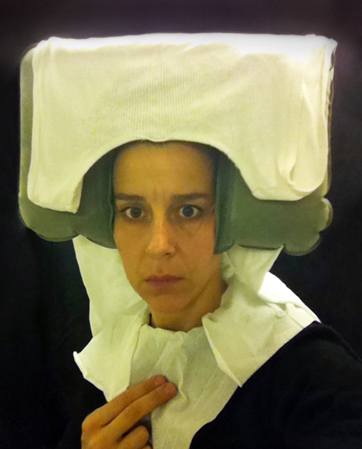 While in the lavatory on a domestic flight in March 2010, I spontaneously put a tissue paper toilet cover seat cover over my head and took a picture in the mirror using my cellphone. The image evoked 15th-century Flemish portraiture. I decided to add more images made in this mode and planned to take advantage of a long-haul flight from San Francisco to Auckland, guessing that there were likely to be long periods of time when no one was using the lavatory on the 14-hour flight. I made several forays to the bathroom from my aisle seat, and by the time we landed I had a large group of new photographs entitled Lavatory Self-Portraits in the Flemish Style. This series is now part of a larger series called Seat Assignment, which is an ongoing art project made on airplanes, using only my cellphone and the materials I find around me.
The works fall into three of the most timeless art historical genres: still life, portrait, landscape. The plane's interior is a landscape unto itself, one that exists between two other landscapes: the one the traveler has just left, and the one the traveler is returning to. The traveler might be dreaming of either, but usually, the traveler is not trying to fully inhabit either the landscape of the plane or the psychological space of the present moment. More often than not, a traveler tries to escape from the physical and psychological confines of the airplane and exist somewhere else for the duration of the flight. Seat Assignment requires a complete investment in the present moment, the materials at hand, and faith and attentiveness to both.

I often make art motivated by the mundane, but Seat Assignment has become a vehicle for me to put many of my deeply-held premises to the test. Is there always more than meets the eye? Is there really something to make out of nothing? Is it truly a matter of paying attention, of staying alert and optimistic about the potential that something interesting could evolve when challenged by boredom? Furthermore, what are the limits of my ability to think on my feet (or from my seat)? When will my creativity hit a wall, either from physical and mental fatigue, or simply because I can't care any more at that moment? How far will my own sense of decorum allow me to go in a public situation?
Nina Katchadourian's work exists in a wide variety of media including photography, sculpture, video and sound. Her work has been exhibited domestically and internationally at places such as PS1/MoMA, the Serpentine Gallery, New Langton Arts, Artists Space, SculptureCenter, and the Palais de Tokyo. Seat Assignment, one of her most recent projects, is on view at Catharine Clark Gallery in San Francisco, April 14 - May 26, 2012.
Image courtesy of the artist and Catharine Clark Gallery