Airline Identity and the Teenage Ego
Are you a teenage boy who doesn't quite fit in? Self-conscious about your stringy red hair, pale skin, girlish walk and lackluster reputation at school? Intimidated by the popular kids, the jocks, the bullies and even the brains?
Maybe your ego could use a jet-powered jumpstart infused with airline-inspired glamour.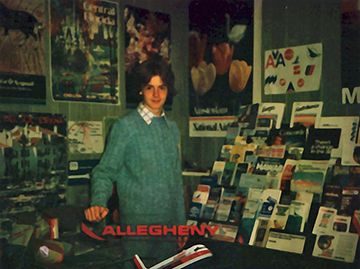 Okay, so maybe that's not you; maybe it was me. And maybe today, at a time when passengers fret about overcrowded planes and cancelled flights, the airline industry is the last place you'd look for inspiration about anything. And yes, teenage boys are more likely to look to sports, music, academics, or even religion for their role models.
But back when I was a troubled young teen (and an admitted airline enthusiast), I bolstered my self-esteem by studying the time-tested marketing and branding strategies of some of the most trend-setting airlines.
Check out the lessons I learned, and you just might find your own self-confidence rising faster than a table tray reaching its fully upright and locked position.
Go for a bold new look. We have advertising executive Mary Wells Lawrence to thank for turning a dowdy, Dallas-based airline called Braniff International into the era's hippest way to fly. Her "End of the Plain Plane" campaign, which debuted in the 1960s, showcased a vibrant, head-to-toe transformation that included "space bubble" flight attendant helmets by Italian fashion guru Emilio Pucci and cheerily pastel planes by celebrity designer Alexander Girard (back then, nearly all airliners were either white or silver). Braniff's "Air Strip" advertisements, meanwhile, emphasized the brand's sex appeal by showing flight attendants seductively removing various multi-colored layers of their Pucci uniforms. The Lesson: Change your style to fit the times. Those multicolored corduroy pants and patchwork jeans? It's time to take them for a spin down the halls of the middle school!
Don't worry if people don't understand. Those who remember Howard Hughes think of him as a reclusive billionaire with wacky personal habits. He also once owned TWA, an airline known for shuttling the rich and famous around the globe. But that's not where he did his most important makeover magic. In 1968, he bought a rinky-dink airline called Air West and renamed it Hughes Airwest, slathering the planes in head-to-toe yellow paint and outfitting the flight attendants in eye-catching Sundance Yellow dresses and capes trimmed in Universe Blue. And just to make sure we knew this was a cutting-edge airline, Hughes commissioned a magnificently mod, nearly illegible font to flaunt the new name.
All this glorious fuss for a strictly regional airline that served obscure western cities like Redding/Red Bluff, Corvallis/Albany and Pullman/Moscow. It didn't matter if most people hadn't heard of those destinations or even the airline, or if my California cousins called it "Hughes AirWorst." The eccentric billionaire had no interest in trying to make his airline blend in. The Lesson: You don't have to be the biggest or the best to stand out. Don't be afraid to be different. When your eighth-grade teacher tells the class to make name labels for the upcoming Washington trip, use the Hughes Airwest font so that it's nearly indecipherable—but totally cool.
Change your flight plan. People made fun of Pittsburgh-based Allegheny Airlines, often calling it "Agony Airlines." But this scrappy little carrier fought back, repainting their planes with confident, thick red stripes as they transcended their former northeastern boundaries to reach far-off lands in Florida and Arizona. Then came the big news: the airline would be reborn as USAir, like an aspiring actor moving to Hollywood and changing his name for maximum celebrity effect. The Lesson: Re-imagine your identity and how it's presented to the public. Believe the advertising you create for yourself.
Observing the dazzling visuals and clever marketing ploys of carriers like Braniff International, Hughes Airwest, and USAir, I learned that you could be small, you could be different, you could even weather insults. You didn't need to be like everyone else. You just needed the right positioning in the marketplace. I'd studied enough magazine ads, timetables and TV commercials to know that the biggest, most popular airlines weren't the most interesting or the most inventive. Underdogs can be cool.
I didn't have to be friends with the most popular people at school. Kids could still make fun of me for sucking at sports. Some of them might call me names. But it was up to me to build my own brand. And I could make it whatever I wanted. If a recluse with extra-long fingernails and Kleenex-box shoes could recast a tiny airline as one of the most fabulous things in the sky, anyone can take charge of their own destiny.
The 2019 winner of the NLGJA Excellence in Travel Writing Award, Mark Chesnut is a travel writer with work in the Huffington Post, Fodor's, Miami Herald, the in-flight magazines of Aeromexico, American Airlines and Avianca and the bestseller 1,000 Places to See Before You Die. Follow him on Instagram (@mundera) and Twitter (@MunderaMedia).