Stearman
If you want to know for certain your father loves you, take his large wingspan hand into your delicate one. Remember how he pointed to each word as he read to you from Kipling. Remember his grip on the wheel when he drove you to school in his Triumph TR8 because you were embarrassed by his Plymouth Fury.
My father grew up in a three-room house in Covington Kentucky. As a boy he slept on a fold-out in the living room, which meant that every evening he had to open the wide mouth of the couch and unfurl its mattress-tongue. Later his mother bought the house across the street that was also three rooms, but with an attic bed for dad.
Once when I was young my father said, "We're going to see Shaler."
There were long halls filled with monitors on stands, robed men in wheelchairs. We entered a room and I heard Shaler wheezing. "Frances?" he whispered to me, reaching for my arm. "Frances you've come to see me."
Frances was my father's mother, 10 years dead. I look so much like her that the portrait dad kept of her in his office was like me in an Old-Time Dress-Up Photo: Marcel Wave, pearl strand, horseshoe neckline.
Shaler was so tall. I am short and I have to study tall things to believe them: how close the feet come to the footboard. My Dad stood six foot, but would have been taller had he not had polio, which tilted him, stole about two inches. On the drive home, Dad pointed to a building where he worked as an elevator operator when he was 11. A whole summer spent rising and falling.
If you want to know for certain you love your father, take his large wingspan hand into your delicate one. Think of how he filed a fingernail into a point so he could maneuver the buttons of his calculator watch. Think of his hands building a model airplane—even though they seemed too big to dry brush the fuselage or apply the decals. But somehow they managed, even painting the teeth of the Curtiss P-40B Tomahawk.
Once when I was young my father said, "We're going to see Chuck."
There were low hangars flanking a concrete runway. When we rounded the curve I saw the Stearman. Chuck was tall. He leaned down to hug me. I had never met him, but it felt like he was hugging his own daughter.
He gave me a Snoopy-style headset. He helped me up onto the lower wing, then into the front cockpit. I knew he was talking as he pointed to the gauges, rudders, control stick. I heard the noise his mouth made, but my head was already in the sky.
Chuck climbed into the back cockpit, and as we taxied I waved to my father, who was wearing a tank top with green horizontal stripes. His arms were crossed, which made his biceps look bigger. His grin was the size of a front wheel undercarriage.
As the plane lifted I watched the planet get larger as my father got smaller. For a while our waving matched in frequency and pitch. When Dad disappeared, I studied the complex architecture of the rigging cables. I had expected them to flutter.
Chuck asked if I was ready. I was. He started with the Split-S. It's like the Immelman in that it trades altitude for speed. The ground rushed towards us, then away from us. The earth got wider, then narrower. Then Chuck moved on to rolls: Snap, Barrel, Alieron.
Chuck asked if I would like to see my house. I would. He asked if I would like to fly us there. Oh, yes. I took the control stick, which looked like a baseball bat.
"I'm letting go now," said Chuck. At first I held the bat steady. But I could see the Interstate, which meant we needed to go south. I moved too gently. So then I moved more. When the nose dipped, I met that third dimension afforded by liquid or gas. It was like swimming. Dive down, up. Turn left, right. It felt so different from solid ground.
Soon I could see our street, our driveway, our roof, our pool, our lawn, our oak tree. It was a ride I hoped would never end. But when it had to, I flew us back, and then Chuck landed the plane on the airstrip next to my clapping father.
I didn't learn until much later that Chuck was using the rudders to counter-act the adverse yaw of my stick. Like a piano teacher massaging the pedals as the student plunks the keys. I thought I had done it myself.
When he was in his 20's, my father took the flight test for his pilot's license. He spent the whole flight struggling, certain he would fail. He had difficulty with rudders already, but the test plane gave him particular trouble. Should a man with no muscles from the left knee down be allowed to pilot an airplane? In the air, even Dad had his doubts. Upon landing, the instructor said, "You did a great job with that sticky rudder." It became one of my father's perpetual stories.
If you want to know for certain that you and your father love each other, take his large wingspan hand into your delicate one. You can picture it passing a coffee cup; handing you a letter; scratching your mosquito bite, one you could not reach. But his hand will feel like a sick bird—all sinew and bone. Now it's nearly as delicate as your own. Somehow, you will find the strength to tell your father that he can die now; that you will be okay. You will be lying. You will both know this. But then, by the time you look up from his hand, you will see that he's already gone.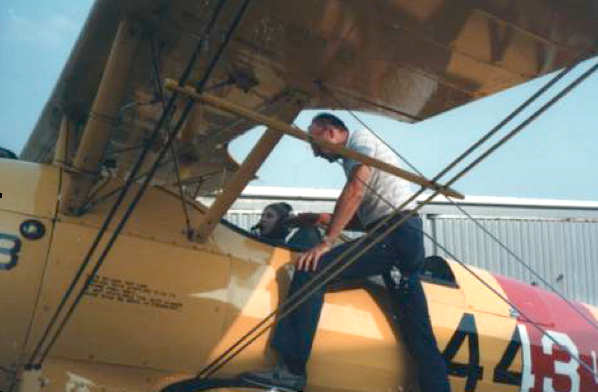 Patricia Murphy teaches creative writing at Arizona State University where she edits Superstition Review. Her work has appeared in numerous journals including American Poetry Review, Quarterly West, The Iowa Review, and Indiana Review. In 2009 she won the Gulf Coast Poetry Prize for "Why I Burned Down Namdaemun Gate."